Prom Limo Service
Ultimate Luxury Limousine Experience for Prom Nights
Do you want the best for the biggest night of your young life?
Then you want to arrive in Luxury Limousine at your Prom night!
Singh Limo Services DC is your best choice, because we have the latest, new body style black and white limousines in town. We offer a variety of Limousines to accommodate any size group. Bring along up to 25 of your friends (maximum of 25 passengers in total) and watch your favourite DVD through the onboard TV or listen to the very latest music. You and your friends will arrive in the nicest, chauffeured transportation available in Washington DC, Maryland or Baltimore.
The prom limo transportation package includes 4 hours of transportation in a luxury limo, Suburban, or 14 passenger van. During the 4 hours we typically pick the students up, take them to prom and return them to the pickup location. Changes can be made to this schedule or additional time added if needed. The chauffeur wears a black suit, and rolls out the red carpet as you enter and exit the vehicle, enhancing your image on your friends.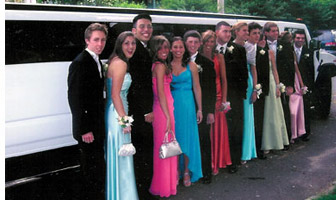 Our chauffeurs are familiar with carting around excited passengers all day long, so they know how to keep things under control. For limo rental details, click here.